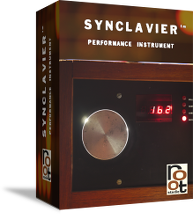 * Last Update *
Root-sounds has released Synclavier, a library that brings you the sounds of possibly the rarest electronic instrument ever built. More...
---
Previous news
root-sounds has released Creaks 'n Freaks, a collection of hair raising 24-bit atrocities. More...
Now you can get Concert Marimba and Deep Vibes in the True Mallets bundle at a nice 25% discount. More...
root-sounds has released an odd instrument freebee - the Phantom Organ. More...
Newsflash (no pun intended): Adobe has officially ended support for its flash player and warns of the security risks associated with running flash content on web sites. As such, all pages with flash content have been removed from our site.
Please subscribe to our newsletter and follow root-sounds.
---
About root-sounds
root-sounds is the sample library division of root studio.
root studio has been collecting sounds for more than 30 years. Our first product, released in the mid 1980s, was a patch library for the Sequential Circuits Sixtrak! Remember that thing? Distribution happened on data sheets for you to punch in all the values yourself!
A lot has happened since and massive sound collections were gathered for exclusive use in original productions. Part of this huge catalog is now gradually made available after being painstakingly manipulated and prepared as ready to use products. But this does not stop us from recording fresh material, too!
Image of SCI Sixtrak courtesy of Theo Bloderer.