The Wreck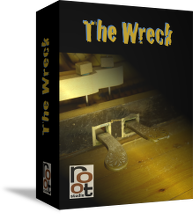 US$ 19.00
So you've heard all the Steinway Concert and Yamaha C series grands, the Bösendorfers with the extra bass notes, Faziolis, muffled 'character' pianos, and what not. You are probably ready for a change. Perhaps you tried a long chain of plug-ins to distort a perfectly balanced grand piano sample into a dull out of tune mess - and you were probably disappointed with the results.
Enter the real thing - a beaten up 100+ year old upright that hasn't been tuned in decades. Whether you are a film composer looking for a special sound for a special scene, or writing serious comedy, The Wreck has got you covered when it comes to toenail bending aesthetics.
We do recognize that, on occasion, you will appreciate a minimum of tonal integrity and that it may be prudent to avoid carelessly insulting your client's ears. Don't worry. Without touching a tuning wrench, you also get an edited version that plays nice with your well-tempered instruments while preserving all the important characteristics of a sadly neglected family heritage.
---
Looking for a press release kit? Click here