True Mallets Vol. 1 - Concert Marimba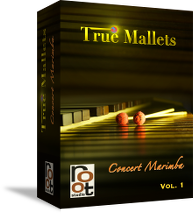 US$ 39.00
Concert Marimba, the first volume in the True Mallets series, is a keenly crafted representation of one of the most versatile instruments in the percussion section, the marimba. Sadly neglected by even the most ambitious concert libraries, we have come to accept three velocity layers, often across only four octaves, as the de facto standard in sampled marimbas.
Concert Marimba not only gives you up to six velocity layers across a five octave instrument, but also a choice of soft, medium, and hard mallets, plus alternating left and right hand strokes.
Although the single hits are perfectly capable of playing most musical styles, you also get dynamic rolls and glissandi, less common articulations like dead notes, hits with sticks and shaft, and even unheard-of sounds like hits and glissandi on the resonators for the sonic adventurer!
With more than 3000 samples in 30 instruments, you have at your fingertips a library with enough detail to be a serious composition and performance tool even for solo mallet work.
Concert Marimba is also available as a bundle offer together with Deep Vibes.
About the performer
We are very excited that mallet virtuoso Nils Rohwer contributed his talent and stellar technique to the True Mallets series. Nils has been a professional percussionist and mallet player for over thirty years. His performances are heard in concerts and festivals around the world. He is also an accomplished composer and recording artist and runs his own drum and percussion school. For more information on Nils, please visit his homepage.
---
Looking for a press release kit? Click here