True Mallets Vol. 2 - Deep Vibes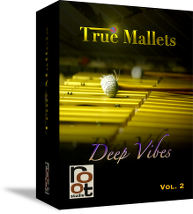 US$ 39.00
Vibes are attitude, style, and character. Few instruments can claim to transverse musical styles with more elegance. From Disney-esque fairytale scoring to jazz, lounge or pop and anything in between, this is an extremely versatile instrument in the hands of a capable player. Turn on the motor and experience a whole new sonic universe, a mysterious and liquid modulation in between vibrato and tremolo. Sampled vibes often result in a mediocre experience with the motor sound, because the sampled notes are never in phase as they should be. Thanks to the scripting features in Native Instruments Kontakt, notes not only stay phase locked - you can even change the motor speed in real time right from your MIDI controller!
With Deep Vibes, you can enjoy more than 30 instruments that range from standard articulations with and without pedal, motor on/off to non standard techniques like secco and hits with the sticks, to several bowed variations and extended techniques. Standard articulations come in four velocity layers with left/right hand round robin samples.
Deep Vibes is also available as a bundle offer together with Concert Marimba.
About the performer
We are grateful that mallet virtuoso Nils Rohwer has once again contributed his talent and stellar technique to the True Mallets series. Nils has been a professional percussionist and mallet player for over thirty years. His performances are heard in concerts and festivals around the world. He is also an accomplished composer and recording artist and runs his own drum and percussion school. For more information on Nils, please visit his homepage.
---
Looking for a press release kit? Click here