Hammered Dulcimer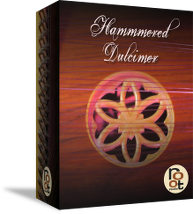 US$ 29.00
You can download the manual by clicking here.
Contents
Felt - standard felt or leather mallet sound, 4 velocity layers with three round robin groups
Soft - only the softer velocity layers with three round robin groups for a mellower sound while still preserving the general characteristic of the instrument.
Intimate - only the softest velocity layer - great for soft chords and atmospheres.
Wood - when you flip the felt mallet around and play with the 'illegal' side. Most street musicians love this sound, because it cuts through the noise much better than the softer felt or leather side.
Glissandi - a healthy selection of short and long up and down glissandi, all with two round robin variations.
Frame - as a bonus, we have included a full chromatic set of mishits on the frame that you can add at will. The Kontakt version even includes a probability setting for missing the notes!
In addition, the Kontakt version includes contour shaping options and a rhythmic delay effect.