Space Drum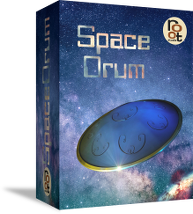 US$ 19.00
Audio Demos
Listen to the space drum in a variety of settings.

Welcome to Space Drum - the soundtrack from our video trailer.
Hang On - a cutdown of the full length demo, available on Anatol Locker's SoundCloud page.
Pure Solo - includes a loop from the library in addition to single hits.
Twisted - playing with the filter settings and selected sounds from our Percussive Innuendo and Marimba libraries.
-
Welcome to Space Drum
Hang On
Pure Solo
Twisted